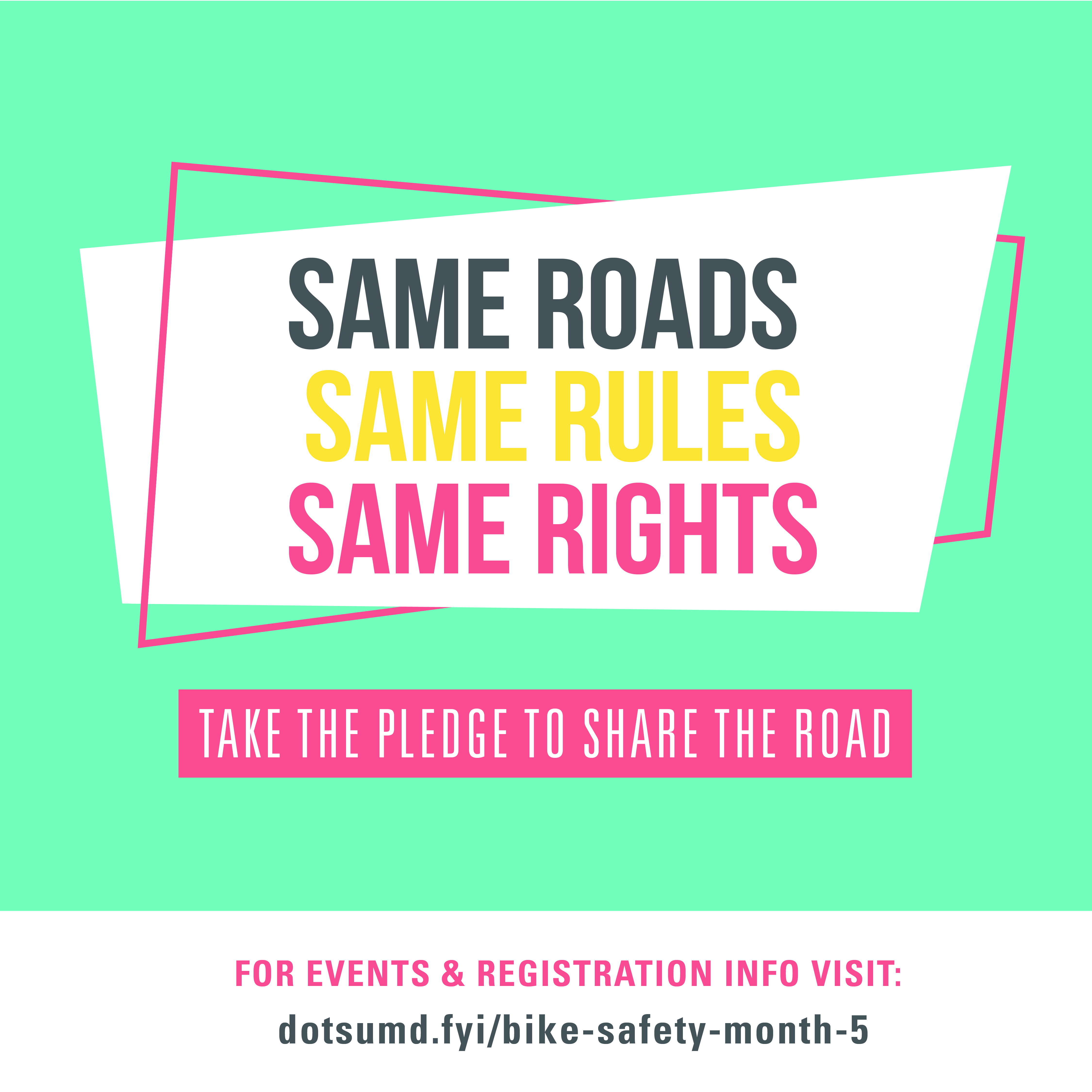 Bike Safety Month is a month-long dedication to promoting the coexistence of bicyclists and motorists on our campus roadways. As cycling becomes increasingly popular on campus, it's important for motorists and cyclists alike to be informed about how to safely interact with one another. Take the pledge to demonstrate your commitment to share the road and help keep our campus streets safe! 
Check out the Bike Safety Month webpage which includes all event details and registration links. This fall the League of American Bicyclists is reviewing UMD's renewal package for Bike Friendly University status. Part of the League's review is to query student, faculty, and staff opinions about the bicycling environment on campus. Let your voice be heard by taking the short survey, at this link: https://www.surveymonkey.com/r/BFU2022. Responses are accepted until Oct.16. 
 
BIKE SAFETY MONTH KICK-OFF 
Monday, October 3 | 10:30 a.m to 12:30 p.m. | STAMP Student Union Outdoor Tables
Helmet give-away, safety information, overview of Bicycle Commuter Incentive Program, Rainy Day free car parking pass program, Bicycle Recycle, and Bike Registration, and more. 

BIKE BLENDED SMOOTHIES
Wednesday, October 5 | 11:00 a.m. to 3:00 p.m. | UMD Farmers Market, Tawes Plaza
Run a blender without electricity, make a smoothie for yourself and friends through bicycle power! Check out the DOTS table for the bike blender and other information about BikeUMD.

BIKE MAINTENANCE Q&A
Thursday, October 6 | 6:30 p.m. to 7:30 p.m. | RecWell Bike Shop | Register
During this one hour session, you'll have the opportunity to ask all of your bike-related questions to one of the RecWell Bike Shop bike mechanics. Feel free to bring your bike if you have a question specific to your bike. 

VEO TEST RIDE
Wednesday, October 12 | 11:00 a.m. - 1:00 p.m. | Preinkert Hall
Curious about how to ride a Veo e-scooter, or the Cosmos e-bike? Join us for free test rides in a protected street free from traffic. Learn safe riding best practices and grab some free Veo swag.
 
FIX-A-FLAT CLINIC
Wednesday, October 12 | 6:30 to 7:30 p.m. | RecWell Bike Shop | Register
One of the essential skills to maintain your bike is fixing a flat tire. Learn it here in this one hour clinic! Our instructor will walk you through the essential steps in identifying and repairing flat tires.
Cost: $5 

BIKE CARE BASICS
Tuesday, October 18 | 6:30 p.m. to 7:30 p.m. | RecWell Bike Shop | Register
Do you have a bike you're not sure how to take care of? Join us for bike care basics! This one-hour clinic will walk you through some of the easiest, most important things you can do to keep your bike running well and minimize the downtime you have to endure for your bike! Bring your bike, or we can lend you one to practice. 
Cost: $5
 
BIKEUMD GROUP RIDE & PICNIC LUNCH
Friday, October 21 | 11:00 a.m. to 1:00 p.m. | Grocery Store Circuit | Register
Join us for a guided bike ride that will show you how to get to area grocery stores on routes with the least or no car traffic. We will have a picnic lunch along the return to campus. Limited to 10 so don't delay in signing up!

BIKES BE BRIGHT
Wednesday, October 26 | 3:00 p.m. to 5:00 p.m. | DOTS Lawn
Daylight Savings is around the corner and it is getting dark earlier. Don't get hit -- stay lit! Drop by the front lawn at Regents Drive Garage to pick up some free BikeUMD lights and ask our staff any questions you have. Information on all BikeUMD and DOTS Sustainability programs will be available.