The University of Maryland's Terrapin Trader plays a big role in campus sustainability by keeping unneeded but still useful products out of the landfills and reducing costs for new products. From computers, to furniture, to filing cabinets, the list goes on of what's available in this campus hidden treasure. Office of Sustainability intern, Blair Jackson, sat down with Mike Painter, manager of Terrapin Trader, to learn more.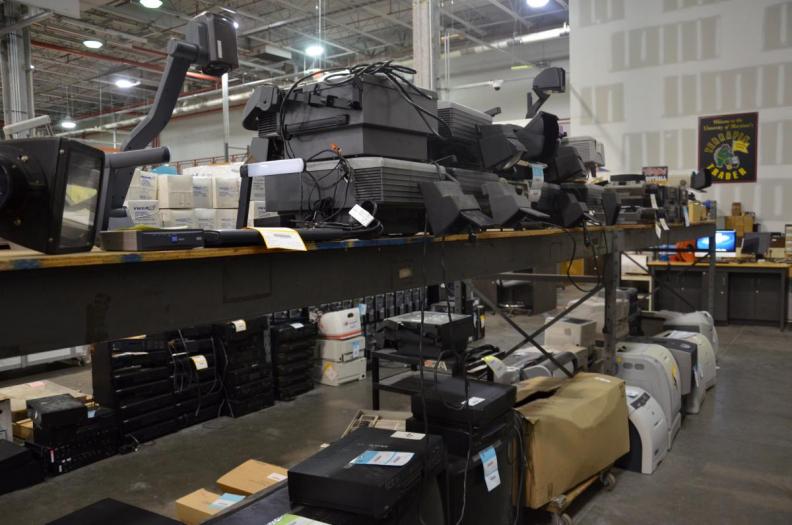 Office of Sustainability: Who decides if items are considered surplus on campus?
Mike Painter: The university departments are the ones that decide when it's going to be surplus.  When it's reached an end of life, sort of like computers, file cabinets and usually it can be due to a renovation, they're moving, they're getting rid of furniture, they're getting new money in their budget, but usually they determine the shelf life, when it becomes surplus. We just react to it. They tell us they've got this for surplus, it can be furniture or it can be cars, it can be boats, it can be anything that the university deems as surplus.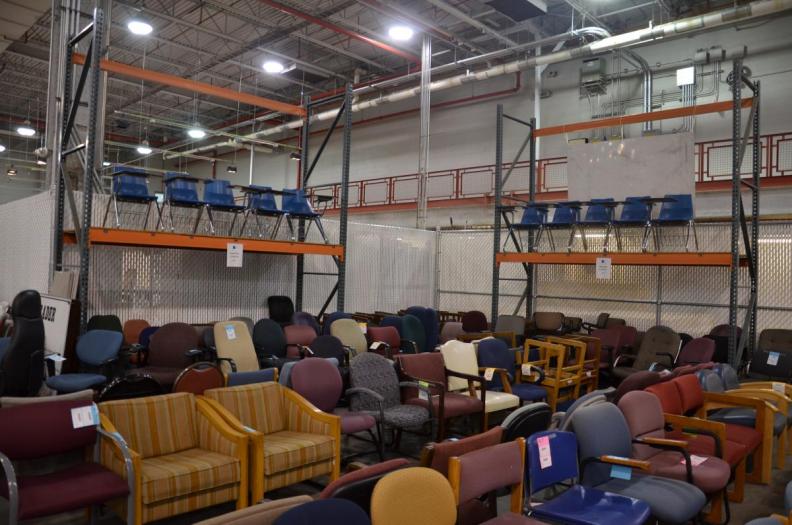 OS: When did the Terrapin Trader open and how did it start?
MP: Well, we've been operational since 1994. They used to have auctions, just once a year. It was called the "campus clean-up auction." Well, a lot of the university departments weren't getting their money back because it was used to cover the cost of the auction here, and the transportation of everything to Ritchie Coliseum and the Armory, that's where they would hold them. The money, there was little, if any, return on it, so they figured they would have something more continuous throughout the year where the departments could get rid of stuff, the surplus stuff, where it's also based on the fact that the departments are encouraged to come here and buy used before they buy new. So, it would give them a place to look first. So, it's having this thing operational yearly gives everybody a way to clean out needed space on campus, so nobody's storing stuff in storage rooms or classrooms that could otherwise just be used for storage, could be cleaned out and used for what they're intended for. So, it was a better idea than the auctions. The auctions weren't really working out.
OS: Is it mainly students who come here or members of the community?
MP: The public, not-for-profits come here, students come here, companies come here that buy from us, vendors that are doing recycling themselves, computer people that have businesses, small businesses come here and buy stuff for their furniture, computers.. We also have contractors, well like even on campus, a lot of the contractors building the buildings on campus come here and outfit their trailers with desks and chairs and file cabinets and all that. We have a wide variety of people that come here. We just don't have enough students. We have students that work for us, and that's been a great thing, but we just don't have enough foot traffic for students, because they just don't know about us. And I think if they did, it would be [good]. They could get a used computer, they can buy anything, they can buy a monitor for 20 bucks, they can get file cabinets, tables, and desks. Anything that you can see. We got shop equipment, paintball set-up, anything that they deem surplus. Even a used car.
OS: What's your main goal with this service?
MP: We're trying to stay completely sustainable as far as nothing going in the landfill. Right now, nothing goes in the landfill that comes from here. We have a recycler that provides a 53-foot trailer for different items like damaged furniture, plastics, woods, etc. All of our electronics go through a recycler. So we're doing pretty well so far and we divert quite a bit from the landfill using that trailer.  So, it's keeping a lot of things out of the landfill and that's what our goal is, because also if we get more students in here, because reselling is reusing and repurposing it. Some students might come in here, like art students. We have stuff that people come in here and buy and turn it into something. We had a person buy a robot. It was obsolete, it was broken. A lawyer bought it and put it in his front office just for people, you know, to start conversations. It was pretty cool.  It's kind of a feel-good thing. We do a lot of things here for schools, too, if they come here looking for stuff. There's a lot of schools here, especially in Prince George's County that can't afford things so, like microscopes, we're getting ready to donate some microscope. We try and find a way to get rid of it other than just scrapping it. If you hold on to it long enough, you find a home for it rather than scrap. We definitely don't want it to end up in the landfill.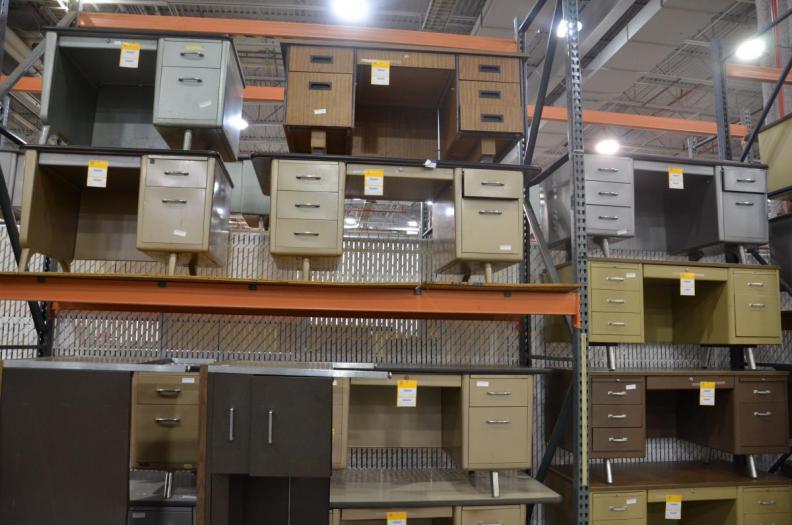 OS: What's the most rewarding aspect of working here?
MP: Keeping everything out of the landfill, finding a use for it, for something that somebody thinks is obsolete. And getting the students here, the students that we work with a lot of them have gone on to pretty good jobs. And they stay in touch with us, a lot of them come up and work the whole four years they're here, because we work with their schedule. It's a pretty laid back atmosphere too. They go out and help make pick-ups, they work our sales desk, they help condition the computers as far as wiping the hard drives and making sure stuff works. Basically they do anything that they're asked. A lot of them have rolled up into a full-time position here after they graduate until they can find a job within their field. It's kind of nice. It's an interesting place, I mean you get in a wide variety of stuff, anything from an exam table to a research vessel to an oyster barge. We've even sold ostrich pens… yeah, down in Upper Marlboro they used to raise ostriches and they surplused them all. And they actually found a home for them at a horse ranch.
For more information about Terrapin Trader, visit http://www.purchase.umd.edu/ttrader/