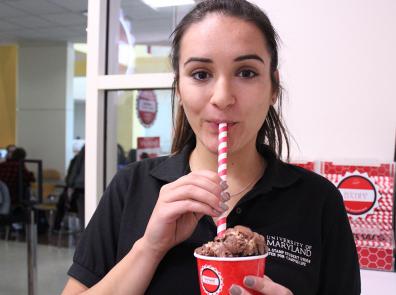 There's no need to "refuse the straw" at the University of Maryland Dairy due to the introduction of compostable paper straws. Lori Dominick, General Manager, Dining Services Food Court has decided to pilot the use of paper straws in place of plastic straws at the Maryland Dairy in the month of April. Plastic straws are estimated to take up to 200 years to decompose, which adds up when almost all food service places offer them.
Dominick was inspired to try paper straws when she heard about a turtle who had gotten a straw stuck in its nose; she felt it was her responsibility to make a difference in keeping the environment (and turtles like Testudo) safe. There has also been a raised awareness on campus about plastic pollution thanks to efforts of the Sustainable Ocean Alliance. Plastic straws are most commonly used because they are cheaper to produce than paper straws, but the Dairy is looking into finding lower prices and discounts for the future. The independently run Co-op has eliminated plastic straws, the Green Tidings food truck currently uses compostable straws, and the Dairy's pilot for paper straws is set to last about a month; they hope to permanently switch to paper straws by the Fall 2018 semester. Through the Anytime Dining program, Dining Services eliminated disposable straws in all three dining halls in Fall 2016. 
Lori's efforts are one small step towards sustainable change that has the potential to make a dramatic difference by inspiring others: "I think people want to do the right thing to protect the environment.  We're just starting to understand how plastic is affecting marine life. Using a paper straw, or no straw, is one step towards making a difference."
UPDATE: The Dairy is switching to all compostable straws in fall 2018. 
Follow the Maryland Dairy on Facebook, Twitter and Instagram. 
By Rachel Baker, Communications Intern, Office of Sustainability