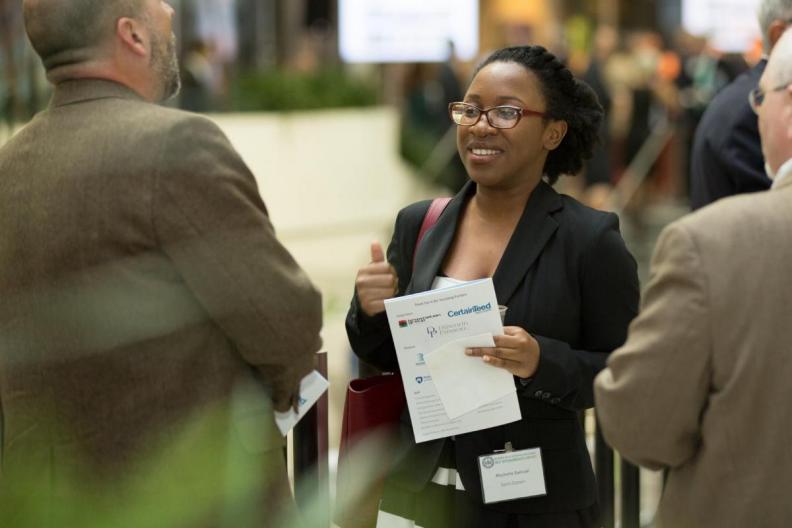 Rochelle Samuel '15 stood among the first Maryland graduates to earn a minor in sustainability studies—even though five years earlier she'd never heard the term "sustainability."
Today, she melds her passions for environmental stewardship and diversity as a process sustainability engineer for the global manufacturing firm Saint-Gobain, where she supports over 110 manufacturing sites in North America to ensure sustainability goals are being met. She initiated a Green Committee that's focused on increasing employee compost efforts in company buildings. She also co-founded the company's first multicultural employee resource group.
The group, Leading Efforts for Ancestral Diversity (lead), strives to build cultural awareness about the different ethnicities, particularly minority ethnicities, with which Saint-Gobain's U.S. employees identify.
"Diversity is in the definition of sustainability," she says. "There is so much data that says you need to have a diverse team to solve a problem, and sustainability is a huge problem. In that way, diversity is very relevant to sustainability because it's going to take a major culture change; we need to live our lives differently."
Samuel was introduced to sustainability when she took a mandatory engineering class and the professor was doing research on biofuels. "I had never heard about biofuels before. It was pretty cool: He was using E. coli to express methane and create energy."
She was inspired to change her major from chemical and biomolecular engineering to civil and environmental engineering. "That was the first time I got exposed to energy and the environment and what the relationship between the two were. I became really interested in it. I thought, 'Why doesn't everybody care about this?'"
Samuel had to take a fifth year to complete her bachelor's degree with the sustainability minor, but says it was worth it.
"When I first started taking sustainability classes, I remember how surprised I was at the amount of literature and data that supported everything," she says. "I'm an engineer so I really care about data and was impressed by how much there is. Sustainability is something I can justify as I go throughout my work."
This story was featured in the 2018 SustainableUMD Magazine.