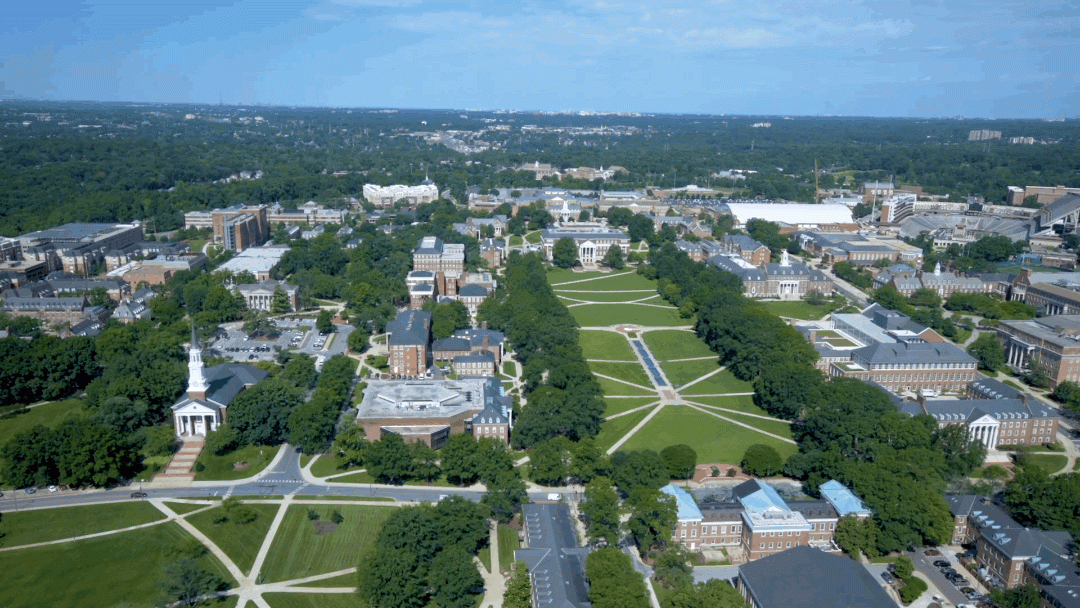 Sustainable Grounds & Gardens
Protecting Ecosystems & Restoring Natural Spaces
Protecting our landscape means protecting our health.
Air, water and soil quality are all essential to our wellbeing and the wellbeing of wildlife, ecosystems, and watersheds. Located just outside the nation's capital, the University of Maryland's 1,250 acres of arboretum and botanical gardens contribute to the well being of our region.
93%
of campus grounds are internationally recognized arboretum
150
acres of Certified Audubon Cooperative Sanctuary
23%
of campus is covered by tree canopy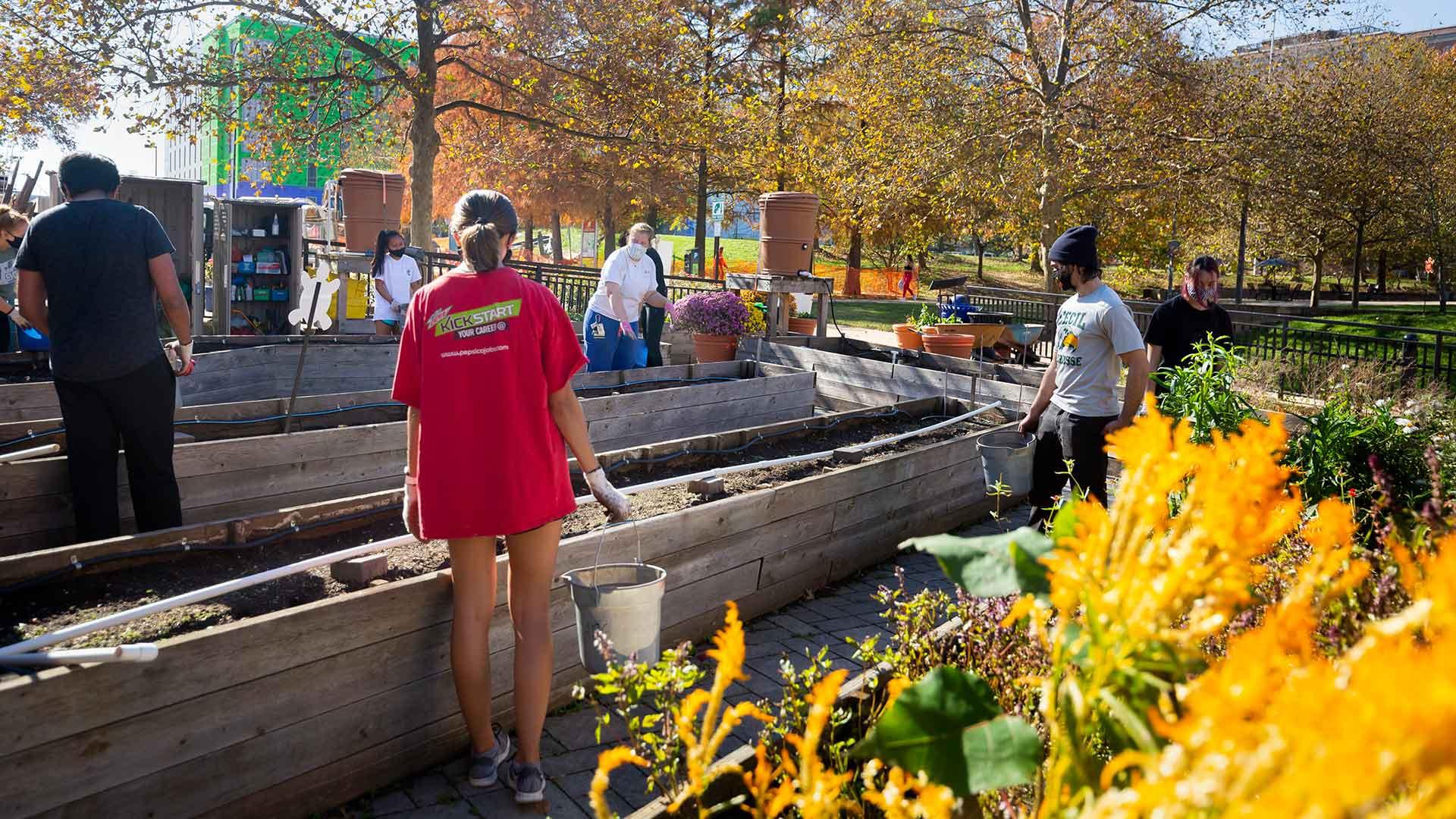 Opportunities
Programs to help you support Sustainable Landscapes on campus
UMD's Department of Facilities Management manages the 1,340 acre campus including the Landscape Maintenance, Arboretum & Horticultural Services units, cultivating pollinator-friendly gardens, edible landscaping, native plants, rain gardens, and more!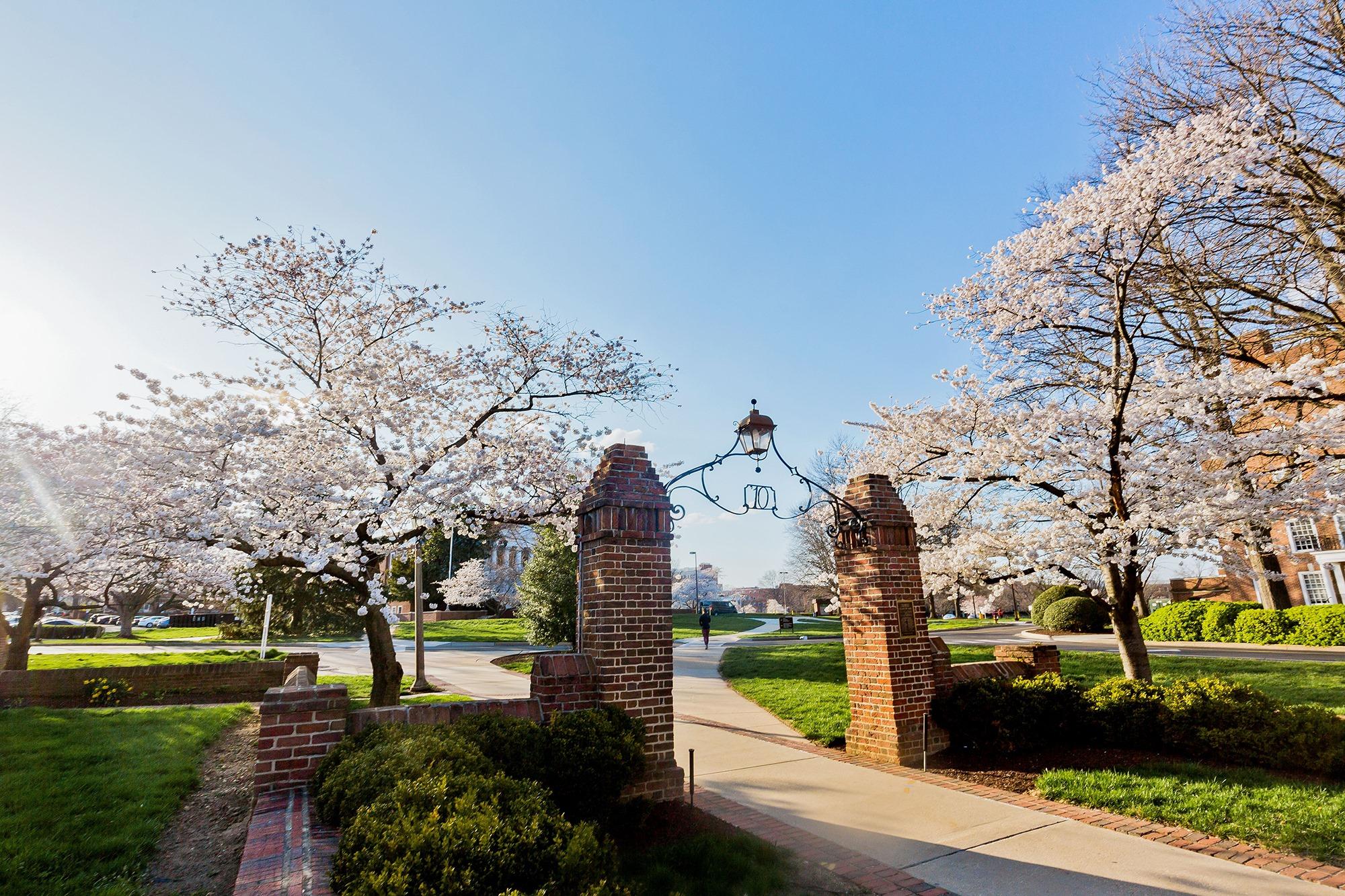 Achievements
UMD Initiatives supporting Sustainable Landscapes on campus
UMD integrates environmental stewardship into campus development, design and restoration projects. UMD's campus is an award-winning arboretum and collection of botanical gardens where horticulture staff and volunteers care for trees and gardens, conserve biodiversity, and provide opportunities for education, public enjoyment, scientific study, and food production.
Agro-Ecology Corridor: The Agro-Ecology Corridor explores how to increase the footprint of the campus farm to areas beyond, and connect these green spaces to meet the College of Agriculture and Natural Resources Strategic Initiatives. The campus farm and adjacent greenspaces are untapped resources, which have the potential to become a living learning laboratory to address sustainability of food production and natural resource preservation.
NatureRX: NatureRx@UMD is a new and burgeoning movement, represented by numerous individuals and units within the University of Maryland College Park community, who have come together with a shared passion for the many ways in which the landscape of our campus arboretum and other recreation spaces can heal and preserve the health and well-being of every person. 
Stormwater Management: Any rainwater that lands on campus flows downstream into in the Anacostia River watershed and then into the Chesapeake Bay. University landscape management practices including rain gardens, wetlands, and riparian buffers all serve to protect and restore local waterways. 
University of Maryland, Home and Garden Information Center: Develops and delivers science-based, sustainable gardening and integrated pest management education for better human and environmental health. 
UMD Golf Course: In 2003, the UMD Golf Course was named a "Certified Audubon Cooperative Sanctuary" by Audubon International. The certification includes categories focusing on Environmental Planning, Wildlife and Habitat Management, Chemical Use Reduction and Safety, Water Conservation, Water Quality Management, and Outreach and Education. 
Arboretum Explorer: In addition to cultivating green spaces on campus, the Arboretum and Botanical Gardens is committed to monitoring campus biodiversity and plant health. The Arboretum and Botanical Gardens has created an interactive campus Arboretum Explorer with over 14,250 tagged species.
Related Academic and Research Programs:
Sustainable Landscape Stories: