Our Guide to Sustainable Gifting: Ideas for Mindful and Ethical Gifts this Season!

Sustainable Gifting Guide
Americans toss 25% more trash than usual between Thanksgiving and New Year's — about 1 million tons of extra garbage weekly, according to the National Environmental Education Foundation. Here are some ideas for ways to gift thoughtfully and reduce waste! The manufacturing and distribution of goods create pollution, deforestation, and harm to people, animals, and our ecosystems- so here are some recommendations for useful, functional, and sustainable alternatives!
Experiences: 
Instead of material items, choose gifts with a lower impact! 

A massage, facial, or wellness service 

A kayak/canoe rental or another outdoor adventure 

Entry to a botanical garden or arboretum 

Local restaurant gift certificate 
Shopping:
Shop locally owned, small businesses (especially women & people of color) 

Shop fair trade, if your gift is not available locally 

Shop from thrift stores, or online secondhand, for a unique gift 

Provide a gift receipt so folks can return/exchange anything extraneous

Gift 

reusable items like portable bamboo utensils, reusable straws, water bottles, travel mugs, canvas bags, and more! 

Look around your home/closets for unused items you could re-gift to someone who could use them. Declutter through gifting!
DIYs:
Create a DIY scrub, cleaner, or other upcycled item: 

check out our instructions and tutorials 

Save and repurpose glass jars to create kits- such as hot chocolate or cookie ingredients (buy the ingredients in bulk!) 

Bake something- like cookies, bread, granola or energy bars and repurpose a reusable container 

Ferment something- if you are trying to stay healthy, ferment some kombucha, pickles, or sauerkraut for a less sugary, probiotic treat! 
Nature Based: 
Grow something to gift, such as herbs! 

Propagate cuttings from your plants

Grow nutritious microgreens/sprouts in just a week

Gift a planter kit by bundling seeds, soil and a planter

Make an 

upcycled planter by painting a container (such as a tin can or glass jar), or repurposing a mug or tea cup
Cut some sprigs from an evergreen tree or holly for festive decor 
Gift Wrapping:
Repurpose paper grocery bags or newspaper to create your own reused and recyclable 'wrapping paper' (metallic wrapping paper and tissue paper cannot be recycled)

Reuse gift bags rather than disposable wrapping paper. Use scrap paper instead of tissue paper for an upcycled, recyclable paper. 

DIY gift tags from scrap paper or the front half of old cards

Place gifts in a reusable canvas bag, basket or bin instead of wrapping

Wrap gifts in cloth such as a throw blanket, shawl, scarf, or pashmina that can be a bonus gift as well.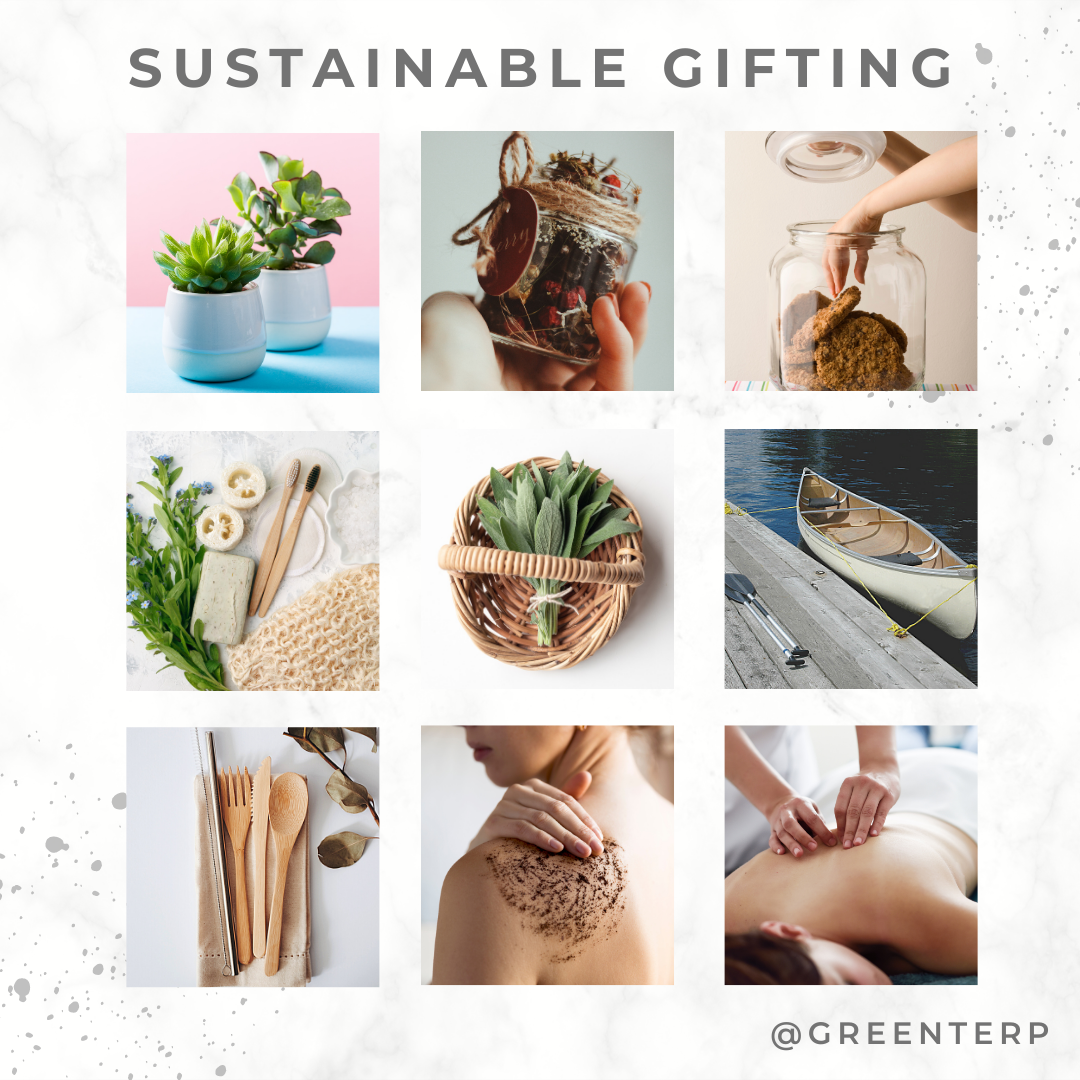 How to Steer Family & Friends Towards 

Sustainable and Ethical Gifting Choices

It's that time of year when friends and family often exchange tokens of love. But what do you do when the gift giving conflicts with your minimalist values, or when you can't stomach the thought of another fast-fashion sweater? Below is a guide for how to steer the ones you love towards brands you respect. Sharing our preferences for sustainable and ethical gifts is a chance to challenge one another's creativity, to educate our loved ones on our social and environmental values, and to give and receive in a way that is truly fulfilling. 
Create Lists
We all have relatives who every year ask us for our wish lists. And no matter how awkward it may feel to send a list of desired items or experiences, the reality is that it fulfills their desire to be generous while simultaneously providing direction toward brands we respect. Consider curating a collection of sustainable goods and experiences that you'd be genuinely honored to have.
Model Your Values
Perhaps the easiest way to encourage sustainable gifting is to model it yourself. Give your gifts early and share your enthusiasm for the sustainable options you choose. If you leave a note, make sure to mention how inspiring you found the company's mission. If you give the gift in person, tout its ethical standards. No matter when or what you give, choose from the brands you'd be eager to receive yourself, those whose standards you respect and that you'd love to see thrive.
Place Limits
Part of gifting sustainably means consuming less and reusing more. Choosing to purchase from ethical and sustainable brands is a great start, but it's equally important to figure out what purchases you can cut out altogether. Early in the holiday season, agree with family on a spending limit or challenge everyone with a theme of vintage, reused, or upcycled gifts. Both inspire thoughtful gift giving, challenge our creativity, and reflect our values that less is genuinely more.
Stay Organized
One of the hardest parts of shopping sustainably and ethically can be knowing where to look and replacing the big brands on everyone's radar with more innovative and ethical alternatives. Organize bookmarks in your web browser by product category, or build favorite folders to archive posts on instagram. No matter how you do it, maintaining lists of ethical beauty products or artisan home goods creates an easy place for you to turn when friends or family ask for recommendations.
Suggest Alternatives
Be a resource for others by having a repertoire of brands to recommend when someone is looking for the perfect hat for their sister or a sustainably made watch for their grandfather. Making a case for why you are choosing ethical alternatives when it comes up in conversation can be an easy way to steer the purchases of family and friends without coming across as pushy or pedantic.