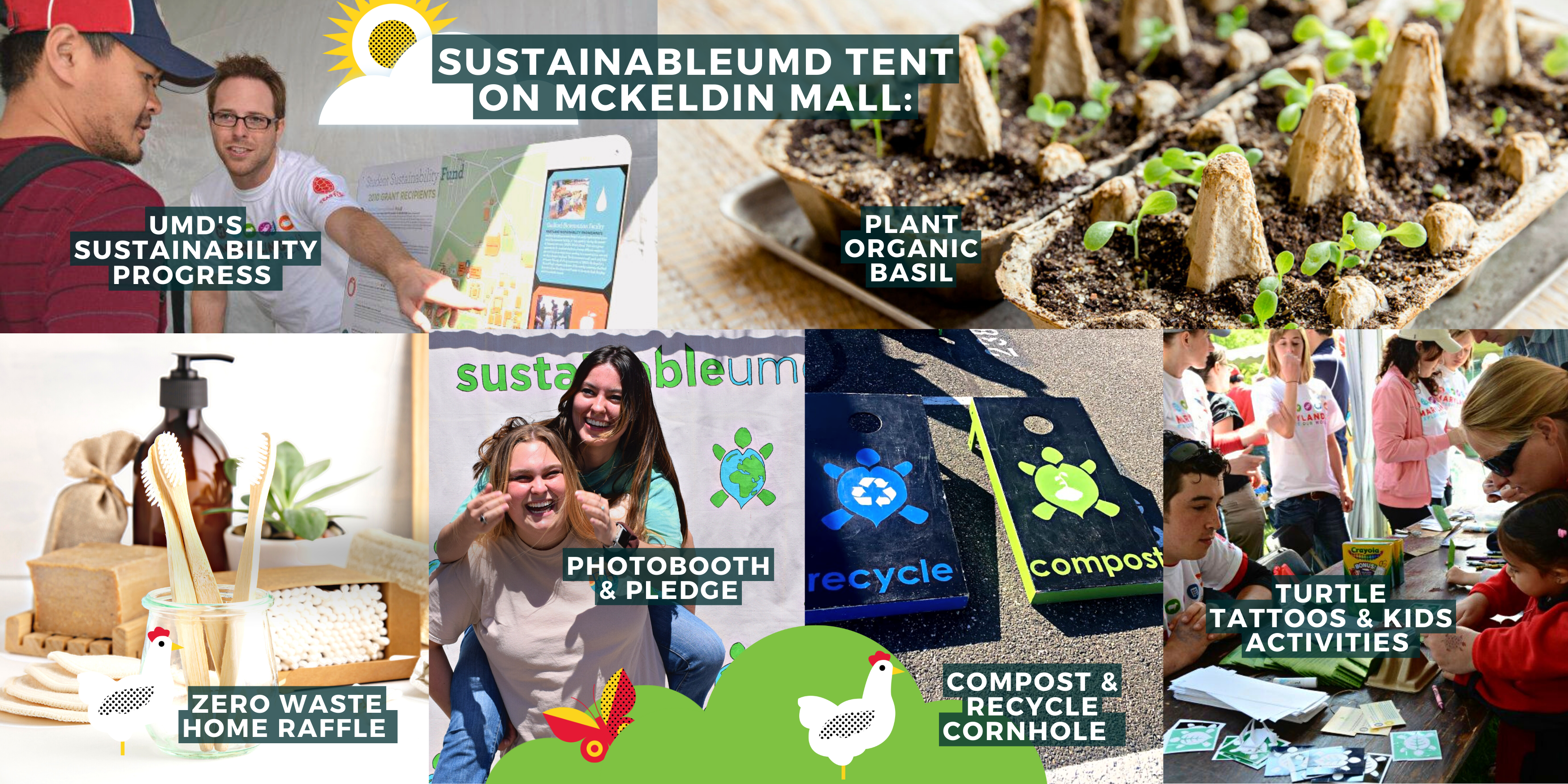 At Maryland Day take part of hundreds of family-friendly events and interactive exhibits during a daylong celebration and inspiring journey across campus- including many sustainability events and activities!
Saturday, April 30, 2022 | 10am-4pm 
SustainableUMD at Maryland Day
10am-4pm | McKeldin Mall
There will be a SustainableUMD Tent at Maryland Day hosted by the Office of Sustainability staff, interns, ambassadors, advisors and volunteers! The SustainableUMD Tent will be on McKeldin Mall in front of the ESJ building, next to the department, Environmental Safety, Sustainability, and Risk. 
Learn about UMD's Sustainability Progress & Goals through an infographic gallery 
Take pictures with the Sustainability Photobooth & Pledge 
Plant organic basil seeds in an upcycled biodegradable planter 
Zero Waste at Home display and raffle 
Kids coloring and activities 
Compost & Recycle Cornhole  
More Sustainability Events & Activities at Maryland Day: 
Algal "Terp" Scrubbers for the Agro-ecology Corridor
All Day | Animal Sciences Building Courtyard
Check out student-driven research using algal turf scrubber technology, which uses communities of algae to extract to pollutants from water before it flows into the Chesapeake Bay.
Biomaterials and Sustainability
All Day | Parking Lot H
Explore biomass (cellulose and chitin) as a sustainable source of next-generation materials.
Building Tall With Wood
1:00 PM - 3:00 PM | McKeldin Mall-College Tent-School of Architecture, Planning and Preservation (MAPP)

Designing multi-story buildings with engineered mass timber structures creates a resilient way forward by sequestering carbon. Come see the award-winning work designed by Peter Noonan's ARCH601 students.
Cotton Candy With RESTORE
All Day | Animal Sciences Building Courtyard
The Environmental Science and Technology student organization RESTORE, committed to environmental science, sustainability and activism, sells cotton candy.
Could the School of Public Health Be for You?
All Day | McKeldin Mall-College Tent-School of Public Health
An education in public health can lead to a wide range of career options including health promotion, social work, physical therapy and medical school. Learn about the school's departments and areas of study: Behavioral and Community Health, Epidemiology and Biostatistics, Family Science, Health Services Administration, Kinesiology, and Public Health Science as well as the Maryland Institute for Applied Environmental Science.
Discover a Swamp
10:00 AM - 3:00 PM | Physical Sciences Complex (outside)
Track and observe small aquatic creatures that are common in nearby wetlands. Learn about their behavior lifecycles and behavior as they swim through water and climb on plants.
Do Good at UMD
All Day | Hornbake Plaza - Do Good at UMD
UMD is the nation's first Do Good campus, committed to supporting Terps to create positive change. Learn more about what Terps are doing about social issues like hunger, health, the environment and social justice. Make a commitment to do good in your community by contributing to our community mural.
Dyeing With Plants
All Day | Plant Sciences Building (inside)
Observe the techniques (with a few modern enhancements) that have been used to get both subtle and vibrant hues out of plants and onto textiles for thousands of years. In addition to simmering pots of natural dye, finished products will show off the range of beautiful colors you can get from nature.
Earth System Science and Climate Change
All Day | Glenn L. Martin Building, Front Lawn
Explore our planet with earth system scientists from UMD, NASA and the National Oceanic and Atmospheric Administration (NOAA). Find out how much water you can "squeeze" from a cloud and learn about lightning and flash-flood safety from interactive virtual reality displays.
Energy Matters
All Day | Parking Lot H

The Maryland Energy Innovation Institute provides a pathway for university-developed clean energy technologies to become commercially licensed products and services. Come view them on display.
Environmental and Civil Engineering Meet and Greet
All Day | Parking Lot H
The undergraduate advising staff of the Department of Environmental and Civil engineering are on hand to answer questions from prospective students and to share informational fliers and giveaways.
Environmental Trivia Booth
All Day | Animal Sciences Building Courtyard
How well do you know climate change, biodiversity and ecosystem health? Try your luck at the Epsilon Eta booth. The more correct answers, the greater the prize.
Explore the Community Learning Garden
All Day | Eppley Recreation Center
Test your gardening knowledge, ask gardening questions and pick up seeds to plant your own garden.
Introducing the Master of Extension Education Program
All Day | Plant Sciences Building (outside)
Chat with graduate students about the new Master of Extension Education program, in which they're using social science to illuminate people's decision-making and behaviors.
It's Thyme to Create a Soup-herb Community
All Day | Animal Sciences Building Courtyard
Visit the IAA and pick up a delicious culinary herb plant! (sage, cilantro, thyme, rosemary, parsley, basil) Grown by IAA students and available to the community for free Location: Animal Science Courtyard
Journey to Agricultural Education
All Day | Plant Sciences Building (outside)
Meet undergraduate students pursuing degree specializations to become certified ag teachers; learn about nontraditional teaching opportunities, such as becoming a farm-based educator; and find out more about the statewide network of agricultural educators.
Living Canopies
All Day | Animal Sciences Building Courtyard
David Tilley, a professor in the Department of Environmental Science and Technology, will present his flowering, living umbrellas and canopies—an eco-friendly form of shade, cooling and beauty.
Memorial Chapel: Historic and Natural Landmark
All Day | Memorial Chapel (outside)
Experience the beautiful 1952 Memorial Chapel and its evocative gardens through musical performances, family-friendly history tours, a nature-related children's craft and game, labyrinth walks and '50s-style refreshments.
Optoro, the Optiverse and Sustainability
10:00 AM - 1:00 PM | Brendan Iribe Center (inside)
At Optoro, we're transforming retail by eliminating waste from returns. Learn about your impact on returns and what you can do to live more sustainably.
Our Neighbor, NASA Goddard
All Day | Glenn L. Martin Building, Front Lawn

Around the corner and around the galaxy: NASA's Goddard Space Flight Center, five miles away in Greenbelt, builds spacecraft and instruments and invents technology to study earth, the sun, solar system and universe. Discover how its mission affects you.
Plant a Seed with the Horticulture Club
All Day | Plant Sciences Building (outside)
Horticulture Club members will demonstrate how to plant seeds the right way, and hand out free seeds so you can try it at home. They will also be selling their hand-planted and grown hanging baskets.
Plant Gene Editing "How-to"
All Day | Plant Sciences Building (outside)
View demonstrations of how plant gene editing is done with the revolutionary CRISPR-Cas system, and check out a showcase of genome-edited crop samples.
Plant Giveaway!
All Day | Plant Sciences Building (outside)
Pick up a free plant started by the UMD Greenhouse's faculty and staff.
Plants Get Sick Too!
All Day | Plant Sciences Building (outside)
It's not just people and animals that come down with sicknesses. Learn why plant diseases are important to understand, the effects the ailments can have and how scientists trying are trying to combat them, all in a kid-friendly format.
RoCo, the Robotic Cooling Device
All Day | Jeong H. Kim Engineering Building
RoCo, the roving personal comfort device developed at UMD, keeps you cool in inadequately or non-air-conditioned environments with up to 30% energy savings compared with typical AC systems, and uses state-of-the art PCM technology.
Sustainable Maryland, Certified!
10:00 AM - 2:00 PM | McKeldin Mall-College Tent-School of Architecture, Planning and Preservation (MAPP)
Sustainable Maryland, part of the Environmental Finance Center, works with communities like yours to enhance their infrastructure with sustainability features.
TerrapinSTRONG Trivia
All Day | McKeldin Mall - Campus Programs and Maryland Supporters Tent
Test your knowledge of University of Maryland history, traditions and landmarks with TerrapinSTRONG trivia! TerrapinSTRONG is a shared vision and values for the entire University of Maryland community. We strive to create an inclusive environment where every member of our community feels that they belong and are empowered to reach their full potential. We work toward this goal by engaging diversity, acknowledging history, celebrating traditions and committing to action for diversity, equity, inclusion and social justice.
The Wonder of Soil
All Day | Animal Sciences Building Courtyard
Soil has been called Earth's fragile skin. We use soils to produce food and antibiotics and to purify water. Explore some of the physical, biological and chemical characteristics of soils, using your eyes, hands, magnifying glasses and microscopes.
UMD Beekeeping
All Day | Plant Sciences Building (outside)
Explore how beekeepers care for these vital insect supporters of agriculture and ecosystems, and learn about all the wonderful products the come from the labor of honey bees.
USDA-APHIS: Animals, Plants, and People!
All Day | Animal Sciences Building Courtyard
Learn about invasive bugs like a spotted lanternfly! — and about the important work of the U.S. Department of Agriculture's Animal and Plant Health Inspection Service, like working with our local airports to prevent birdstrikes with aircraft, making your travel safer.
What Is PSLA?
All Day | Animal Sciences Building Courtyard
Learn about the Department of Plant Science and Landscape Architecture and what it offers: agronomy, agriculture education, plant science and more!
What Makes the Best Bread?
All Day | Plant Sciences Building (outside)
Think your bread baking (or even bread-eating) skills go way beyond basic? Test your knowledge with the bread quiz, and learn about almost magical effect of yeast.
Wildlife Trivia
All Day | Animal Sciences Building Courtyard
Test your wildlife-themed trivia knowledge with UMD's student chapter of the Wildlife Society. You can also purchase plants in animal-shaped pots to support the club's work.