We recently caught up with Larry Tumlin, manager of the Farmers Market at Maryland to discuss the new location and other changes for Terps to look forward to. This is a part of our new digital series, "Sustainability Seven," where we ask seven questions to members of the University of Maryland sustainability community.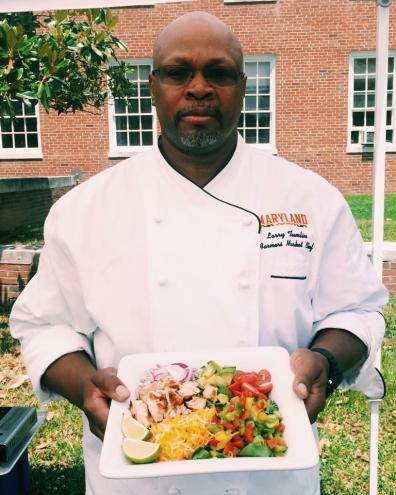 1. What is in store for the Farmers Market this year?

We have a new location. We moved from Cole Field House and now we're in front of Tawes Plaza (the outskirts of the plaza).
2. What changes can people expect to see in the new location?
I think it's going to be better, because now the customers have an area to just relax. In the past they had to sit on the stairs in front of Cole Field House, but with the new location they have places to sit in the plaza and enjoy their time at the market. Plus, there is more foot traffic in this area which will help market sales. I have contacted representatives from the Tawes, Mitchell, and Benjamin buildings, and they are all very excited to have us there.
3. Are there any new products we can expect this year?

I would like to have a crafts vendor, possibly in the future. We have flowers from Terp Farm, two produce vendors, our meat vendor- Country Viddles, our wine vendor- Cove's Point, our bakery vendor, and goat cheese.
4. What benefits are there to buying from a market over grocery stores?
The atmosphere is one of the biggest things. Talking to the person who produced it is a lot different than a grocery store where you just "get it and go." They can tell you how they grew it, how to prepare it, and how to store it. The other thing is that when you get products from a market, you are getting them within 24 hours of it being picked, so the freshness is there.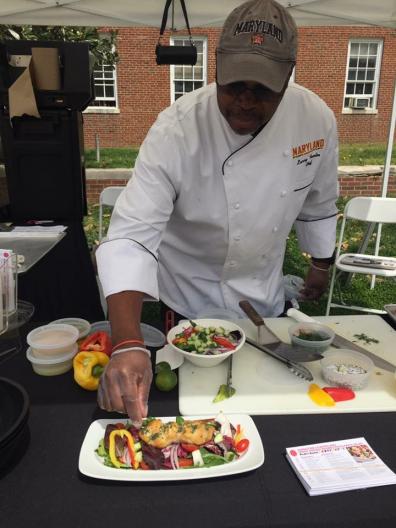 5. Do you deal with a lot of food waste?
We take initiatives to prevent this issue, so we have what we call a "cleaning" where students in various organizations pick up the leftover food to be distributed throughout campus.
6. Does the market currently have any sustainable initiatives?
We have recycling on site. We are trying to start a CSA for the market to make it easier for off-campus students to have access to market products. Students can put in a certain amount of money and they will receive produce back by delivery or pick-up. College Park is still a food desert, so letting people know about the market will at least turn the chairs around for a little while. Also, there is talk of the possibility of building another market on Baltimore Avenue in three years.
7. What is one major goal you hope to reach by the end of the semester?
I do demos at the market about how to make and prepare food items, but due to lack of electrical power, I am very limited. We came up with the idea of investing in a solar generator as a power source which would allow me to do demonstrations with electrical kitchen appliances, which would also contribute to our sustainable initiatives.
The Farmers Market at Maryland will officially open on Wednesday, April 4 and will continue to be open every Wednesday from 11a.m.-3p.m. at Tawes Plaza until November. The market will also feature the Green Tidings Food Truck and a cooking demo at Noon. We hope to see you there to enjoy and purchase fresh food in a great atmosphere.
By Rachel Baker, Communications Intern, Office of Sustainability