Can the Can: Mini-Bin Program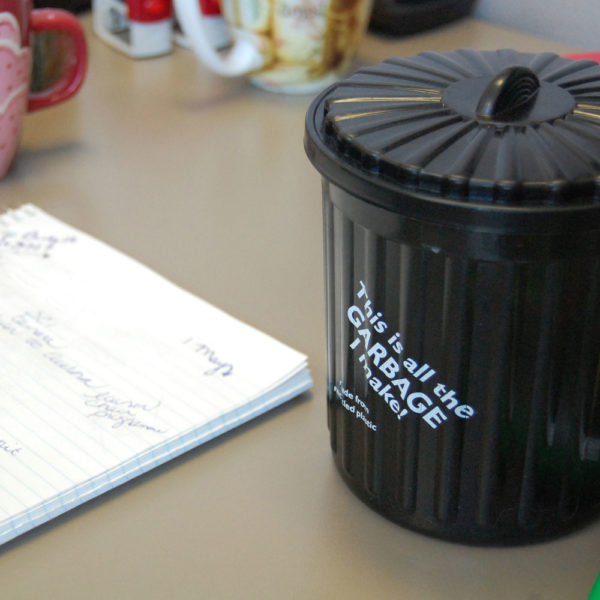 In 2010 Facilities Management adopted the Mini Bin Waste Collection Program for all offices and individual workspaces on campus. This mini trash bin has replaced all standard, desk-side trash cans and is to be used by employees to collect all non-recyclable trash that will be sent to the landfill. Desk-side recycling bins are provided to collect all recyclable material. 
Housekeeping services will regularly empty all desk-side recycling bins. Individuals are responsible for emptying their own Mini Bin into a centrally located landfill/trash bin in common areas rather than having plastic-lined trash bins at each workstation.
Any desk-side recycling bin containing trash will be left for the employee to empty. 
Please Note: This program affects offices only. Housekeeping Services will empty both trash and recycling bins in all communal spaces on campus. 
Mixed Recycling: Our campus has a mixed recycling program. All of your mixed paper, plastic bottles, and aluminum cans should be placed in your desk-side recycling container. Foods, liquids, and plastic bags should never go in a recycle bin. Glass can be recycled separately in glass collection dumpsters.
The Mini Bin has proven to be effective in minimizing landfill waste. Waste audits reveal that the majority of waste generated in offices on campus can be recycled or composted. The objective of this program is to reduce the amount of landfill waste generated on campus, develop mindfulness related to individual waste generation, and help increase the overall campus recycling rate. 
Thank you for your support of this important step towards a more sustainable University of Maryland. For more information on this program or for specific questions, contact recycle@umd.edu.