How to Recycle & Compost
UMD Facilities Management, who runs the UMD recycling program, created a new UMD Waste Guide to help you sort your waste! Avoid contaminating the recycle and compost bins by learning how to sort on campus!  
Useful Links:
Accepted Recycling at UMD:
Paper: Newspaper, magazines, computer paper
Plastic Containers: Bottles and container (must be clean and dry)
Cardboard: cereal boxes, frozen food packaging, etc.
Aluminum: cans, containers, foil, pie pans, etc.
Books: paperback, textbooks, hardback, phone
Steel/Tin Cans: soup cans, fruit cans, etc.
Waxed Cartons: milk and juice cartons, juice boxes
Do not contaminate UMD Mixed Recycling bins with any of these items:
Food/Liquid
Plastic Bags/Film: grocery bags, sandwich bags, bubble wrap, etc. (When possible, collect these items and return to local grocery stores for recycling.  Otherwise, these items should go into the landfill bin.)
Styrofoam: packing peanuts, cups, egg cartons, insulation, etc. (even if the item has a recycling symbol)
Light Bulbs: incandescent nor compact florescent
Glass: jars, bottles, lab glass, windowpanes, mirrors, etc. (Drop off compost at glass recycling dumpsters)
Toxic Materials Containers: motor oil, antifreeze, etc.
Auto Parts: tires, tail/headlights, windshield wipers, grilles, etc.
Medical Waste: bandages, surgical gloves/instruments, needles, etc.
Hazardous Waste: flammable, reactive, corrosive, and/or toxic materials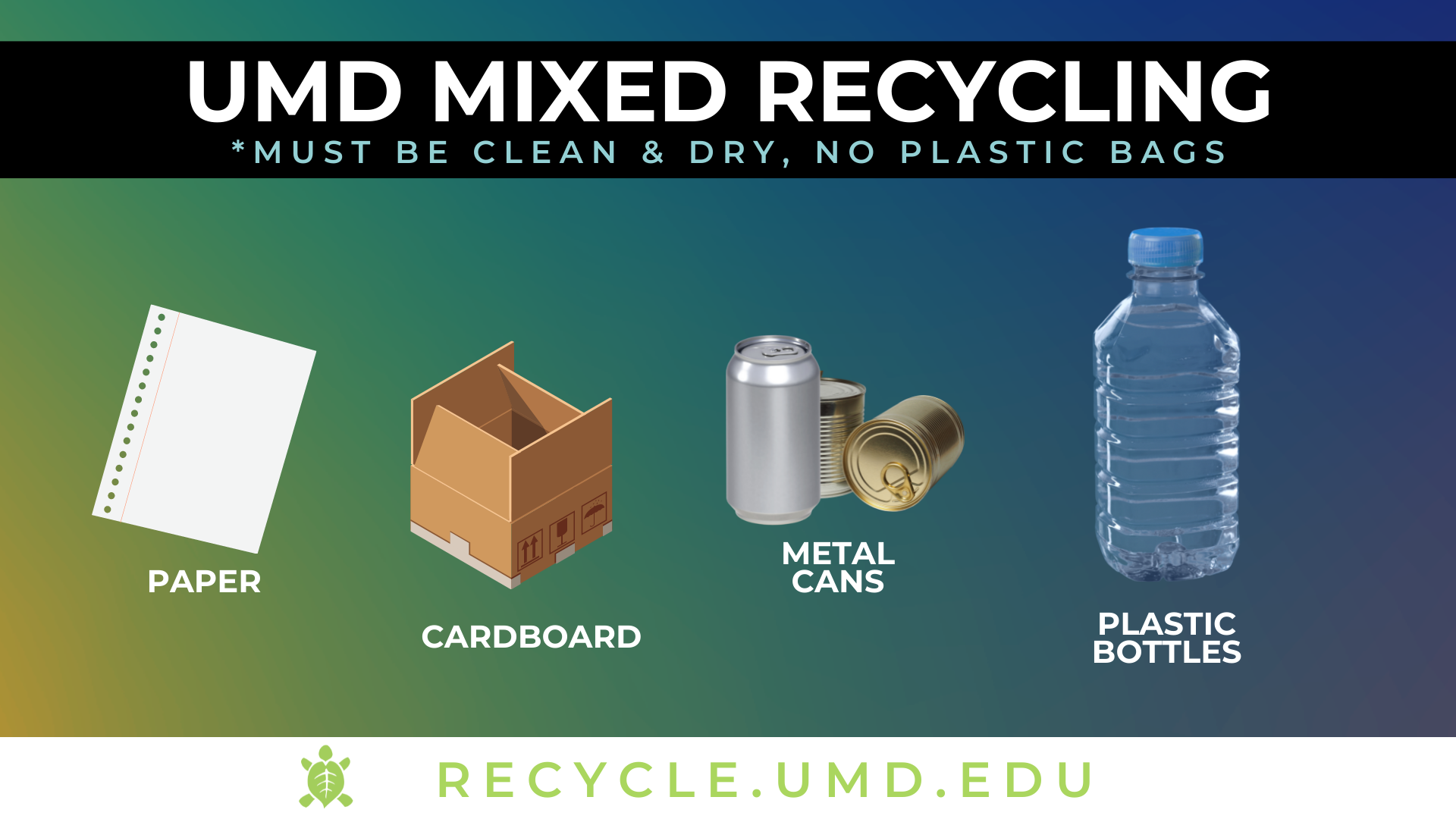 Campus community members can use purple to drop off empty and clean glass jars and bottles, regardless of color. Glass bottles and jars can be recycled with any metal rings, lids, or paper labels still attached. Only individual glass bottles and jars should go into these dumpsters - no miscellaneous glass items can be accepted. Additionally, glass should not be contained in plastic bags for recycling. 
Current Glass Recycling Drop-off Locations:
Map of Glass Recycling locations
Mulligans Bar & Grill Parking Lot (at the campus golf course)
Maryland Stadium, Outside of Gate E
Annapolis Hall, Outside at the rear

Food Waste: fruit, vegetables, meat, bread, etc.
Soiled Paper: paper towels, plates, tissues, napkins
Tea/Coffee: tea bags (with staples), coffee grounds, coffee filters
Paper Containers: pizza boxes; compostable cups and cutlery; waxed and soiled paper take-out containers, cups, and plates (empty cups of all liquid before composting)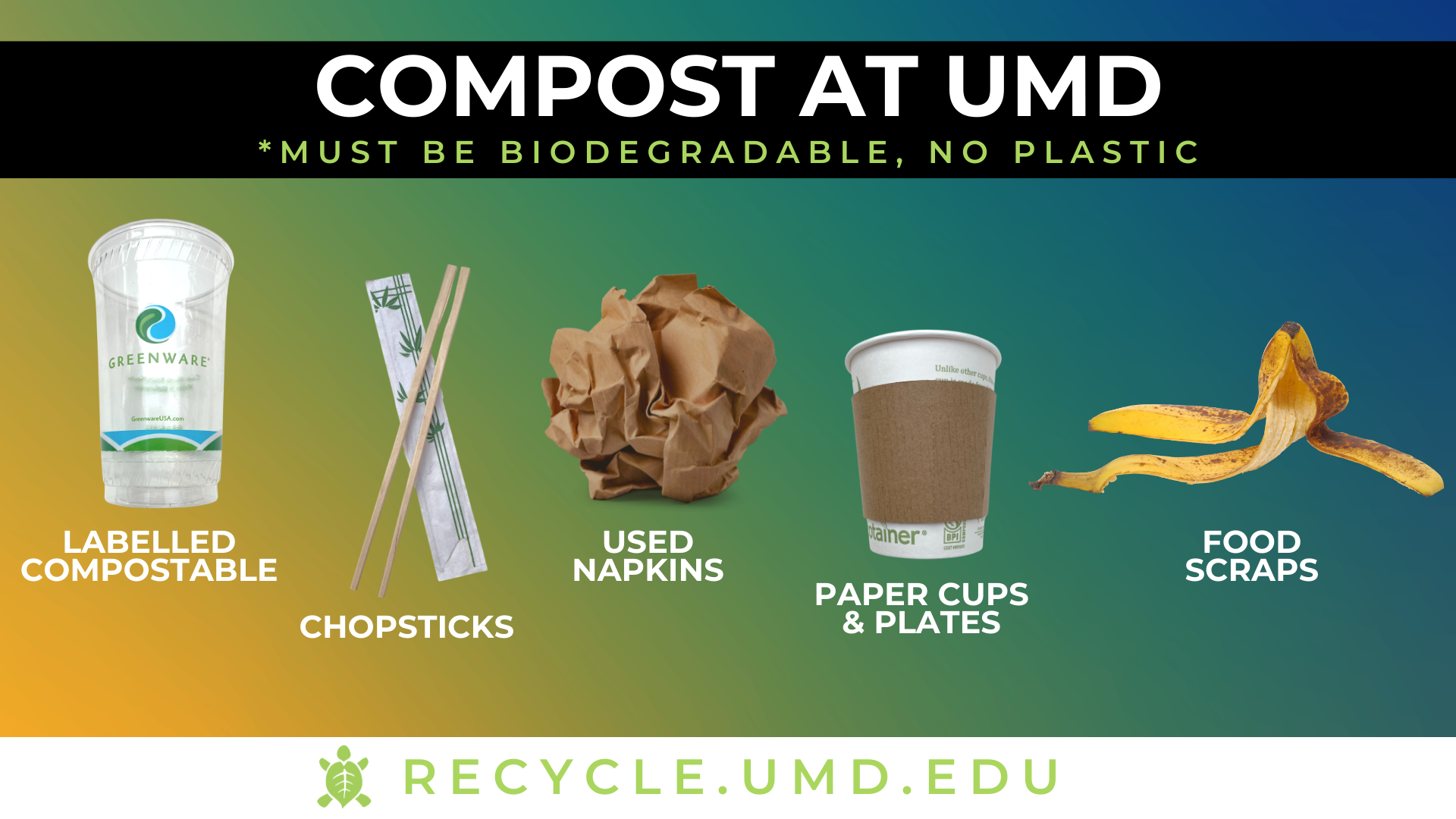 Packets and Wrappers: condiment packets, candy, and food wrappers, chip bags, etc.
Small Plastic Items: including lids and straws, creamer cups, plastic cutlery, etc.
Styrofoam: even if there is a recycle symbol on this item, Styrofoam is not recyclable on campus